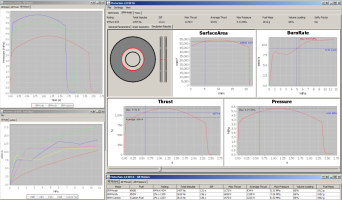 MotorSim is a GUI application for designing and simulating solid rocket motors, with an emphasis on several popular sugar & sugar alcohol propellant formulations.
Based off of calculations and spreadsheets published by Richard Nakka, MotorSim allows the user to explore the relationships between pressure, thrust, burn rate and propellant grain geometry.
MotorSim supports a number of grain shapes not seen in other tools, and as a library supports nearly any solid grain shape of extrusion or rotation.